Landlords, is the rental market still profitable?
Tue 11 Jul 2023
Over recent years, as successive governments have tightened lettings legislation and increased the tax burden on landlords, some with investment properties have seen their profits reduce. And now, with the cost-of-living crisis, mortgage rates at their highest level for well over a decade and the Renters (Reform) Bill making its way through Parliament, some landlords are understandably beginning to wonder if it's still worth having a rental dwelling.
That decision is a very personal one, which will depend on:
Your cashflow: month on month, does your dwelling still deliver the profit you want or need?
Your financial objectives: are you dependent on monthly profit to supplement your income or have you invested more for long-term gains?
What would you do and how would you secure a return on investment if you sold your properties?
If you went into buy to let with the intention of holding the dwelling for the long term, it's likely that dwelling will still deliver good returns over time versus, or alongside other types of financial investment. So, if you're not dependent on a certain level of monthly profit, it may just be a case of riding out any short-term reduction in cashflow.


How are prices and rents doing?
As far as rental income is concerned, the figures are currently robust. Average rents are continuing to rise in most areas, and year-on-year increases have once again hit record levels since the series began in 2006.
For the 12 months to May this year, ONS data shows:
England +4.7% (excl. London)
Wales +5%
Scotland +5.4%
N.Ireland +10% (year to March 2023)
And data from Zoopla shows that rents for new lets increased by 10.4% in the year to April (9.1% excl. London).
But will and can this level of growth continue? Average UK rents as a percentage of earnings are now at their highest level for more than a decade (28.3%, versus a 10-year average of 27%), nevertheless, more than half of renters are reporting that paying their rent is 'somewhat' or 'very' easy, with only 15% saying that it's 'very difficult'. In addition, spending 30% of earnings is considered affordable, so 'on average' there is still some room for rents to rise more, but this is very location specific.
As a result, we're expecting rental growth to slow, but certain not stop – particularly given the ongoing chronic shortage of supply versus demand in most of the UK.
Looking at average dwelling prices, although Zoopla reported in June that sellers were having to accept offers that were, on average, 3.8% below the original asking price, we have to view that in the context of the excellent house price growth that we've seen over the past few years. Rightmove has reported that asking prices went up by 6.3% in 2021 and by another 5.6% in 2022, and their data for the last five years shows the average asking price has increased from just under £310,000 in June 2018 to around £375,000 in June 2023. So, even with prices predicted to fall by up to 5% by the end of 2023, most landlords should have seen good enough growth since before the pandemic for that not to be an issue. And, of course, property investors have to appreciate that the market has cycles and doesn't just keep going up without a break!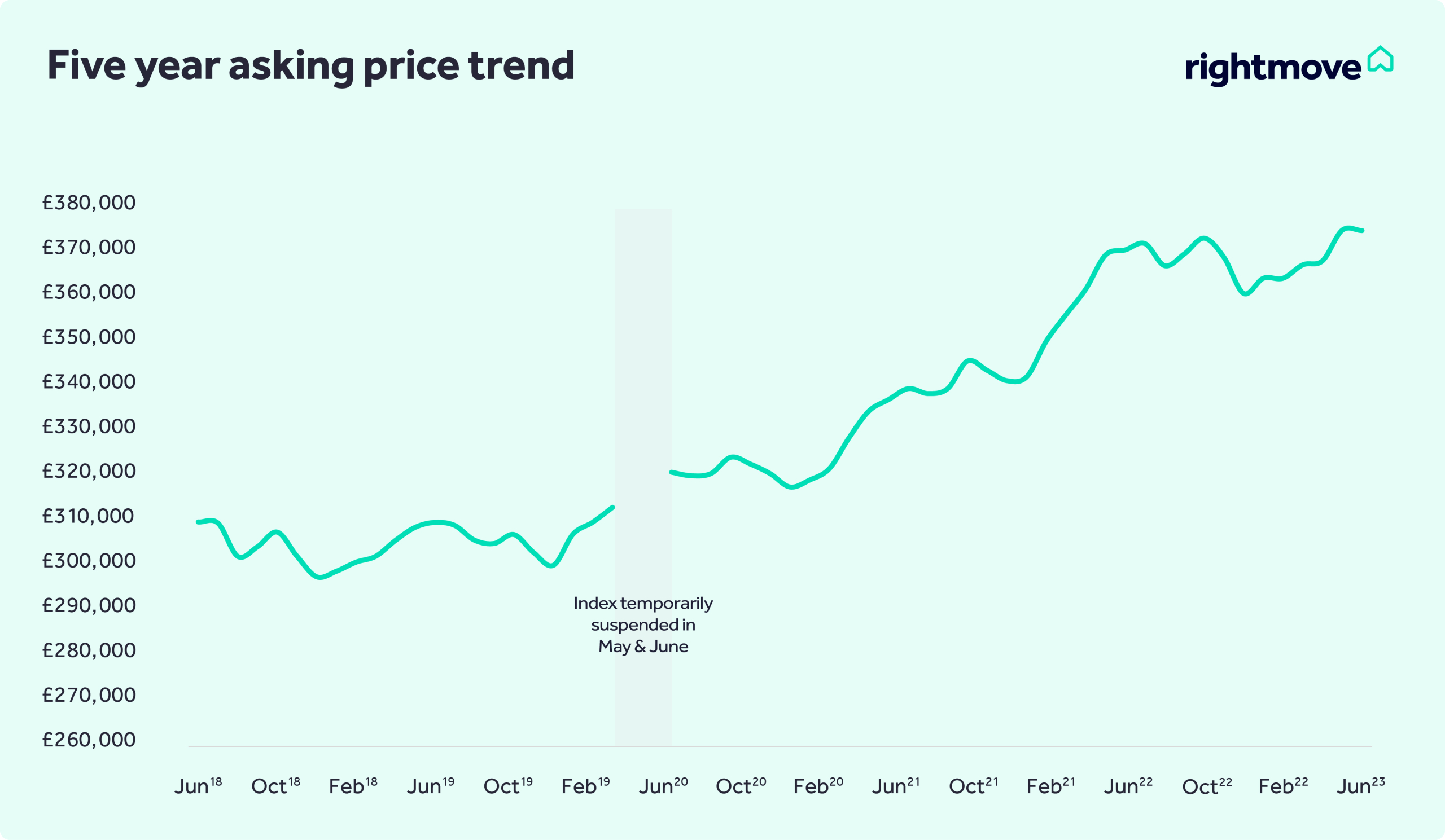 So, in terms of rental income and capital appreciation, the figures look good, but what's certainly proving an issue for many landlords is increased expenditure. General inflation means the cost of maintenance, repairs and other goods and services relating to the operating of rental properties have risen, and those who have buy-to-let mortgages will either already have seen monthly payments increase or will do when they next refinance.
That said, around 40% of landlords own all their properties outright, while a further 24% own some outright and others with a mortgage. Only a third have mortgages on all their properties (money.co.uk). The same report suggests that the average non-portfolio landlord has mortgage borrowing of around 55%, while it's just 44% for landlords with four or more properties - and with that kind of equity, landlords should be able to access relatively good interest rates. And our own Landlord tracker revealed in June that Landlords remain generally positive about the market: 68% plan to maintain their portfolio and 6% plan to expand it.
So, broadly speaking, even though mortgage rates are currently rising, the majority of landlords may not find their profits too badly impacted.


What about the Renters (Reform) Bill – is it bad news for landlords?
Our view is that the vast majority of landlords, who already let in a very professional manner and look after their dwelling and contract-holders well, shouldn't be negatively affected as and when the Bill passes - assuming the contents doesn't change much. And this has been reinforced by our own Landlord research which suggests that "The majority said that the Renters Reform Bill not affect their approach to property investment.  Asked 'Will the bill change your approach to property investment?', 40% said 'no', compared to 33% who said 'yes' (27% are currently undecided)."
There will be a fee for signing up to the Ombudsman and the new portal, but the Government has made assurances this will be 'proportionate and good value'. And we don't anticipate the other changes – even the removal of Section 21 evictions – will make a huge difference to landlords, who rarely choose to evict a contract-holder without a good reason, and that's still going to be possible under strengthened Section 8 grounds.
But if you are still unsure whether to hold on to your rental dwelling/s or sell up, here are five steps that should help you make a decision:
Check your cashflow. Put together a detailed breakdown of all your ongoing expenditure – and for annual costs such as the gas safety check, average the cost over 12 months – and check that your dwelling/portfolio is still making money.
Know the dwelling's current value. Check what capital growth you have had recently, as this may well compensate for any loss in income or monthly profit. You can get a rough idea by looking at the price of similar properties online, but for a much more accurate market valuation, just get in touch with your local branch and we'll be happy to visit and appraise the dwelling.
Work out your break-even point based on mortgage rates reaching 7-8%. Currently, two and five-year fixed rates are available at around 5-6% (int. only), based on 65-75% LTV, but reverting to a standard variable rate of 8-9%. So calculate how much you would be paying with your current level of borrowing if rates rose to 7-8% - would you still be making an acceptable level of profit or could you finance any losses until mortgage rates fall? Source: https://moneyfactscompare.co.uk/mortgages/buy-to-let/2-year-fixed-rate/ and https://moneyfactscompare.co.uk/mortgages/buy-to-let/5-year-fixed-rate/
Could you refinance at a lower LTV? If your dwelling has increased in value significantly since you last remortgaged, you may be able to secure a better interest rate by refinancing at a lower LTV. That could mean your mortgage costs staying about the same or falling, even if your borrowing doesn't change.
Is the dwelling still meeting your investment objectives? For example, if your investment priority was capital growth so you could realise a lump sum for your retirement, as long as the dwelling is still covering its own costs, there may be no pressure to sell.
Of course, regardless of what's happening to average prices and rents across the UK, local markets can vary wildly – even from one end of town to the other. So, before making any decision, we'd recommend you speak to local property experts, such as the team in your local branch, to understand exactly what's happening in the immediate area and what we believe is likely to happen to the rental market over the coming months.
Share